How Joe Biden inspired an SA student on her road from refugee to rights advocate
April 13, 2021
WBH Legal
Comments Off

on How Joe Biden inspired an SA student on her road from refugee to rights advocate
Anoon Kuch's journey to Adelaide and a career in law took her through three African countries on foot. It also delivered her to an inspiring encounter with the incoming US president.
The strains of R & B hit Higher and Higher reverberate around a community college hall in suburban Des Moines in Iowa in early 2020. More an anthem than a song, it speaks of hope and unity – and, for many on one side of the political spectrum, healing.
Lyrics of love lifting higher and higher … disappointment departing … standing up and facing the world … pronounce unity, direction and solidarity, the campaign message of presidential hopeful Joe Biden.
This election, he says as he pitches to Democrats for the party's nomination, is a battle for the soul and character of a nation. "We choose hope over fear. We choose science, science over fiction. We choose unity over division. And we choose truth over lies. We're the United States of America," Biden says.
At this point, months ahead of the election, the land of the free is teetering. Civil unrest will soon ignite in the face of Black Lives Matter. Donald Trump's wall with Mexico has created more than a division of borders. A global pandemic is about to unleash its horrific death toll. Authority is being undermined.
This will be a Presidential contest for the history books: a record voter turnout across the nation, an ousted President refusing to admit defeat, and, eventually, mob anarchy in the US Capitol.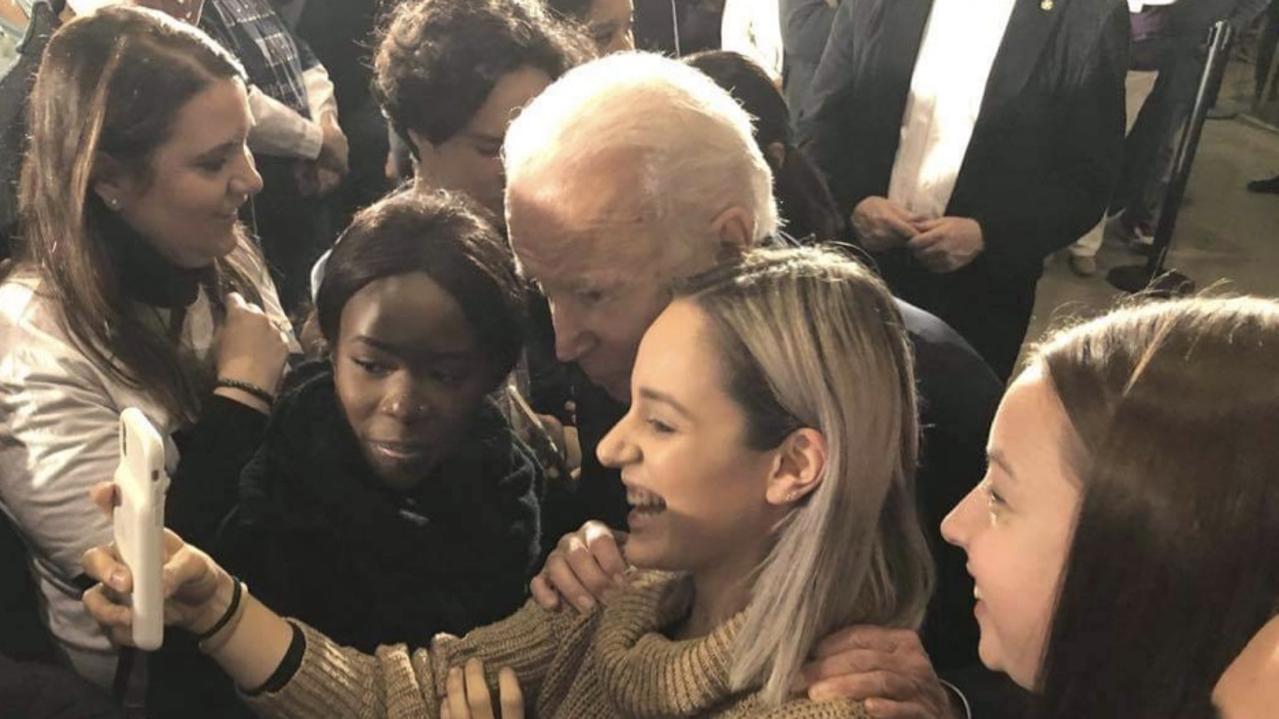 Anoon Kuch and fellow students with President-elect Joe Biden in Des Moines, Iowa, 2020. picture: Supplied
But that is all to come. Here in this icy midwest state, Biden steps from the stage. Svelte and statesmanlike, with an open-neck shirt, and stars and stripes badge pinned to his lapel, he moves to the back of the room where he meets a group with an undeniable Australian accent.
"Australia," he says amid a pre-COVID shaking of hands with students from the University of Adelaide. With the horror of the Cudlee Creek fires fresh in the minds of the students, he commiserates over Australia's summer of bushfires and the communities in three Australian states left devastated in their wake.
Pausing for a moment, and before the obligatory selfies, he speaks of the Climate Crisis, the growing threat of bushfires and the urgency with which climate change must be tackled, saying it is one of the biggest issues the world needs to face.
"He was so approachable, respectful – it was surreal, amazing," says legal studies student and intern at Adelaide firm WBH Legal, Anoon Kuch, 22, of Seaford.
---
---
They were qualities that impressed Kuch but failed to win over the Iowa caucus, Biden's poor showing laying a hard road ahead to the Democratic nomination.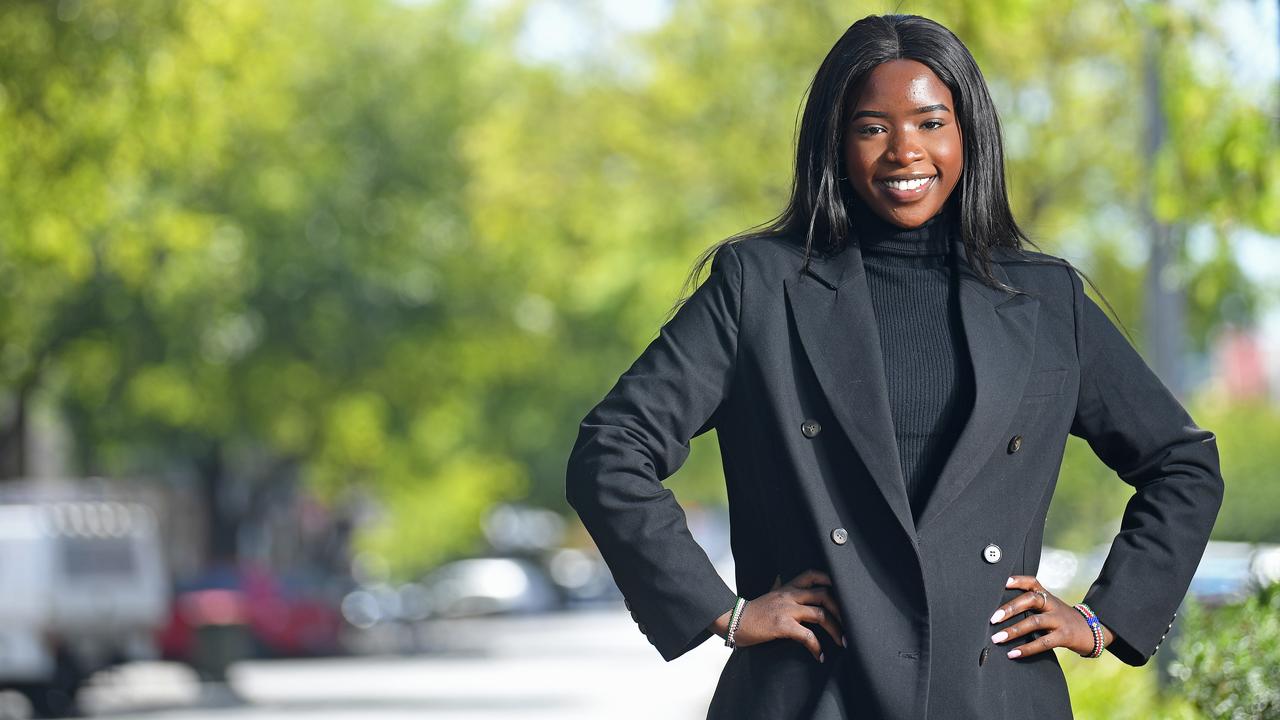 Former refugee Anoon Kuch who is now a young lawyer and spent time in the US on the Biden campaign earlier this year. Picture: Tom Huntley
Kuch's own story and her journey into law and an interest in politics is remarkable. She came to Australia as a refugee, at age five, her family fleeing oppression, unrest and conflict, on a journey that took them on foot through three African countries.
Now here she is, in the United States as part of the study tour "The Iowa Caucuses, A Tour of a Divided America", where a group of SA politics and history students observe close up the dynamics and structure of one of America's most important political processes.
Iowa is the first stop in the 2020 presidential election, where the Democrats and the Republicans begin to choose which candidate will win their respective party's nomination to run for president.
For Kuch, it was a chance to attend the rallies of Democratic and Republican candidates such as Senator Bernie Sanders, Senator Elizabeth Warren, now President-elect Joe Biden and President Donald Trump. And, as part of the study program, she was also given the opportunity to assist in campaigning.
"I chose to campaign for former Vice-President Joe Biden," she says. "From doorknocking to handing out pamphlets and leaflets, I got the chance to experience the inner workings of campaign life and grew to understand the patriotic atmosphere that I found to completely shape and drive the political identity of most participating citizens.
"The differences between the Trump and Biden rallies were truly striking. To me, the atmosphere at the Trump rally was tense and uninviting, with hundreds of American and Confederate flags flown, worn on clothing and depicted on merchandise. I sensed a lot of anger.
"It wasn't somewhere I really felt comfortable being as a woman of colour, which was a feeling that intensified to the extent that a few of us chose to leave after being there for no more than 40 minutes.
"To me, Joe Biden's rally was contrastingly much calmer and welcoming with a sense of hope. Biden used language that was directed toward uplifting the nation domestically and internationally.
"Trump mainly used language that marginalised and demonised various people and demographics he considered to be bringing the country down (namely immigrants and Democrats)."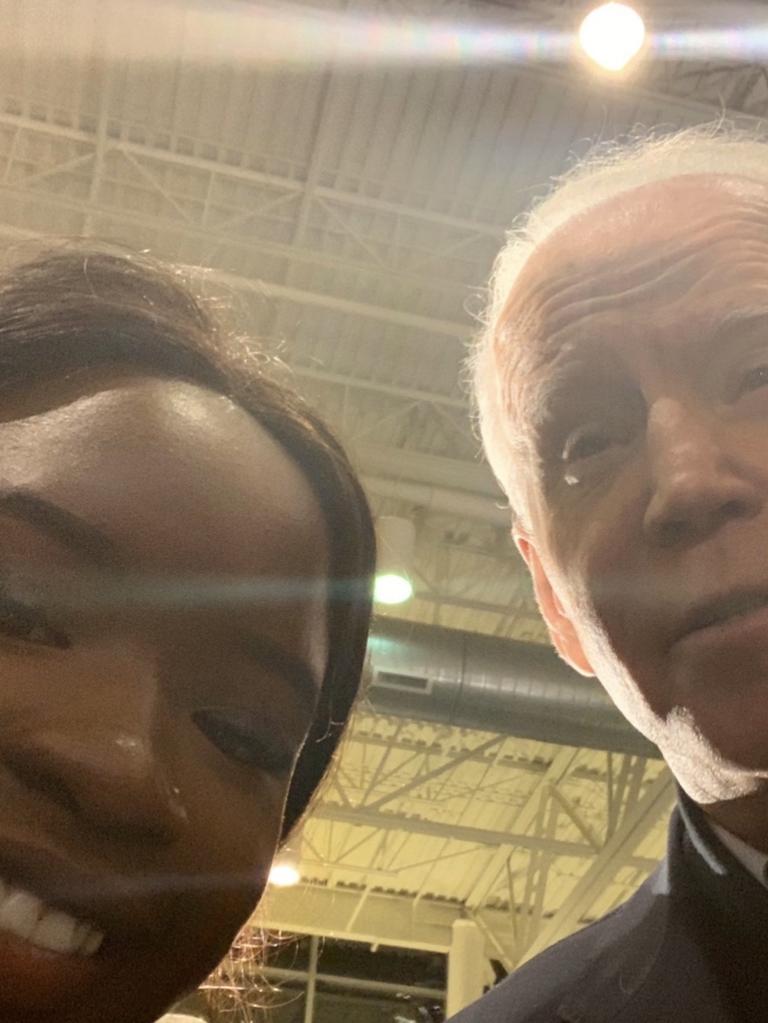 Anoon Kuch with President-elect Joe Biden. Picture: Supplied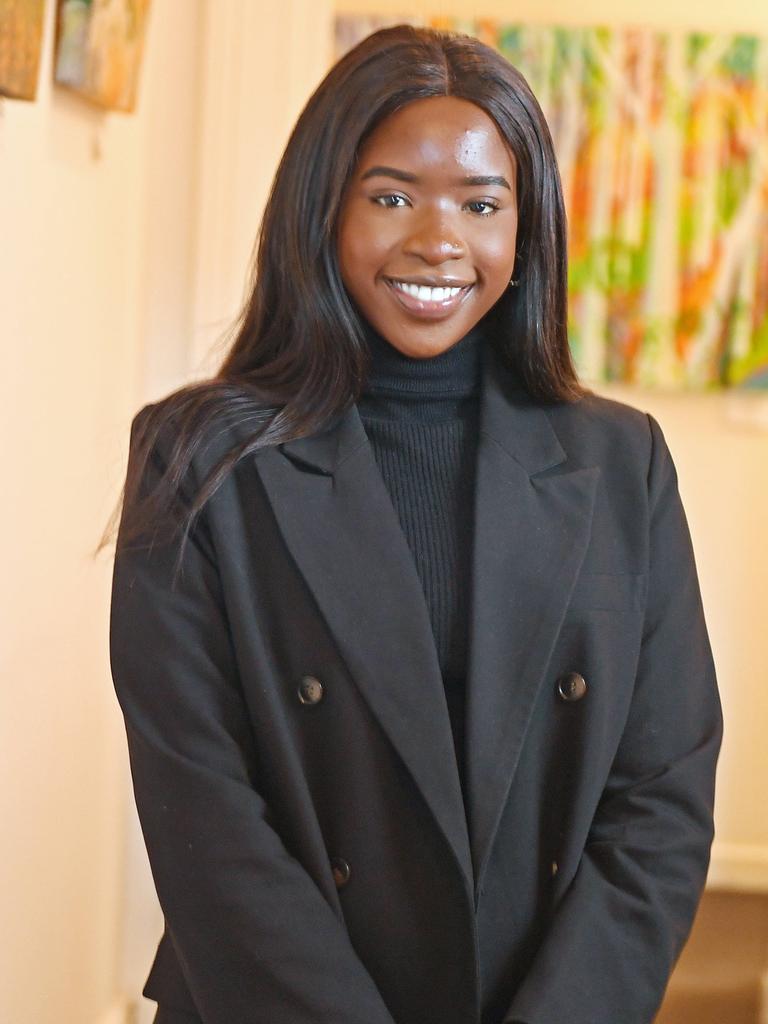 Former refugee Anoon Kuch who is now a budding lawyer and spent time in the US on the Biden campaign earlier this year. Picture: Tom Huntley
As Biden spoke to Kuch, shook her hand and posed for a selfie, little did he know her family's remarkable and inspirational story of hope, bravery and triumph.
"My family – my mother, two older brothers, older sister and myself – migrated to Australia as refugees sponsored by Colonel Lights Gardens Uniting Church. My parents had been forced to flee our country, South Sudan, at the height of the Second Sudanese Civil War."
Their journey to safety and a better life led them on a 1700km trek by foot from Sudan to Ethiopia and Kenya, where Kuch was born. "My mother lost contact with our father after I was born," she says. "My father joining the army to fight for the liberation of South Sudan."
Four years after arriving in Adelaide, Kuch's family was to receive an extraordinary call. Her father, Akol, had been located. Missing in action for six years, he was alive and well.
"At first, mum didn't tell us," Kuch says. "She didn't think it was real. She didn't want to get our hopes up.
"But when we met after a hurried trip to Sydney, I remember I cried the whole time. It was surreal, almost like talking to someone I did not know. He hugged and held me and said 'It's OK, I'm here'.
Kuch's father continues to live in liberated South Sudan where he now works for the government. However, his wife and children maintain regular contact over the phone and annual visits.
"Knowing my history, knowing where I came from inspires me to do better for others. It's not about being an individual, but about doing things as family or a country. A decision is never about yourself, it's about the impact on others.
"My family's history – fighting for survival – has stirred my passion for social justice, activism and human rights.
"Having first-hand experience in the way in which wars and conflict completely separate and displace families and communities, and seeing the most innocent people suffering, inspires me to dedicate my life to providing a platform and a voice to those who aren't able to have a voice for themselves."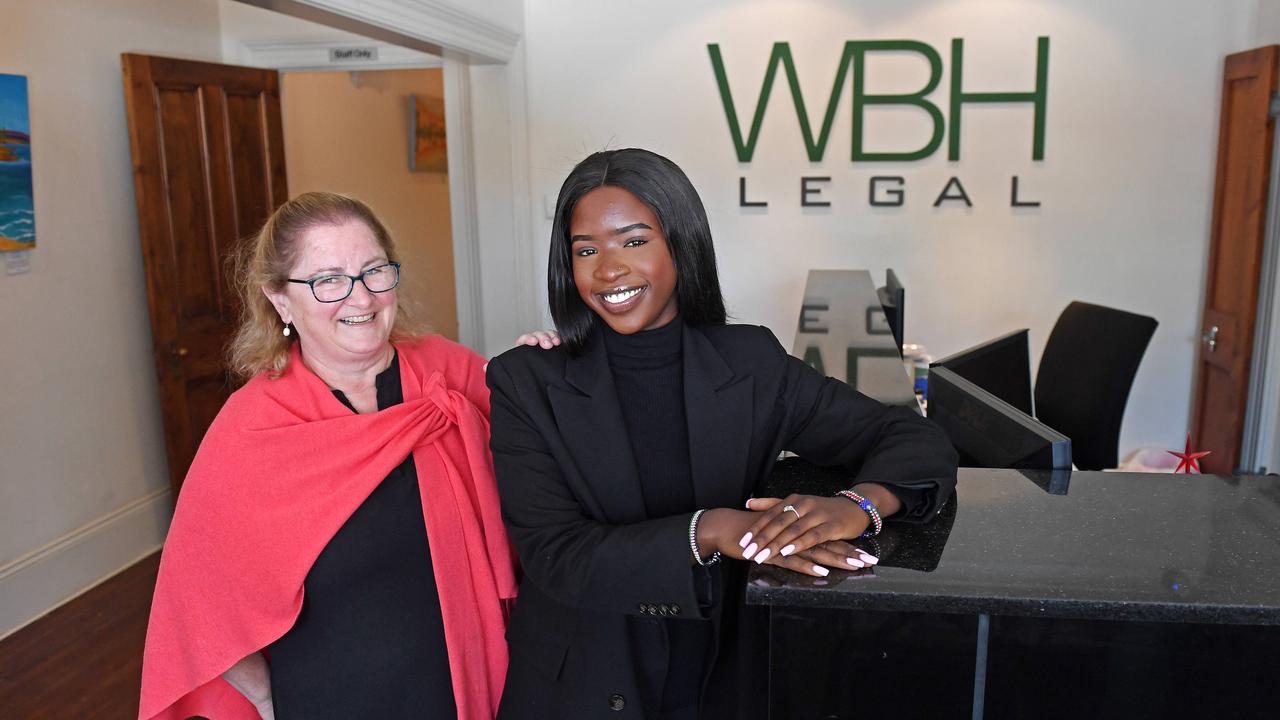 07/01/21 – Former refugee Anoon Kuch who is now working with Cindy Hynes, principal of WBH Legal. Picture: Tom Huntley
Anoon has experienced the modern comforts that western affluence provides – like an education at St Aloysius College for a majority of her schooling, followed by Mary MacKillop College for her final two senior years. It was far cry from her early time here coming face-to-face with a new country and issues such as racism.
Today, she remains grounded by regular trips to Africa, trips that bring her face-to-face with crippling poverty, malnourished children, a lack of drinking water, a climate of dust and despair.
"My family was there at one point," she says. "It's the reality."
And that reality led her mother Aluel to launch the Adelaide-based charity Mothers for Hope, to improve the lives of people in South Sudan by providing food, clothing, sanitary products and helping them to rise above the effects of violence from civil war, hunger and poverty.
While completing her legal and international studies degrees, Kuch has been taken under the wings of WBH Legal partners Cindy Hynes and Corinne Armanini, undertaking an internship as a law clerk.
"Her community outreach, her passion for others and her wealth of life experience is already proving an asset to WBH Legal," says Hynes.
"She is developing into a truly strong advocate with a focus on human rights and in protecting our nation's most vulnerable."
Now, as Joe Biden prepares for his inauguration, Kuch will join some of her classmates from the study tour.
"We'll watch on TV," she says. "I suppose we'll have a bit of a party. It's just so great to have experienced part of it. This election was not just about America, but the whole world."
So any interest in a career in politics?
"Maybe working as a Government ambassador, or for the United Nations or human rights. Maybe, I might start my own NGO in South Sudan. My future is anything that's humanitarian."
https://www.adelaidenow.com.au/lifestyle/sa-weekend/how-joe-biden-inspired-an-sa-student-on-her-road-from-refugee-to-rights-advocate/news-story/9890b56a96654125543014bb27c65c26